—
Role
Independent Thesis - UX Strategy, Research + UI
Project
Event Discovery App

Focus
Product Design / Mobile App Concept

Duration
6 Months

2018 Academic Thesis - Senior Year Grad Show
—
Academic Thesis: Footsteps [Mobile App Concept]
Context —
Academic thesis project
Footsteps was my semester thesis project for the Bachelor of Interaction Design program. Within 6 months, I researched, interviewed, prototyped, tested and designed a digital product concept meant to assist students with gaining valuable workplace knowledge and experience.
This project was an extraordinary growing experience for me because I learned to translate research insights into design solutions, prioritize user needs, collaborate with new networks of people and turn a concept into a full end-to-end product experience.
PROJECT DELIVERABLES
UX research and interviews
Co-creation brainstorming sessions
Documentation of test findings, validations
Low-fi to High-fi mock ups
Product thinking documentation
Product promo video
Skills Involved
Sketch, InVision, Principle, AfterEffects, Illustrator, Photoshop
Research, workshop creation, facilitation and interviewing
Outreach to youth communities and education organizations
Time management
Presentation communication
Focus Area —
Preparation transitioning from inside the classroom to the outside real world
From your high school english teacher telling you that you're more than a 9 to 5 office job, to the engineer you met at a hackathon offering you your first internship, or that time you volunteered for a non-profit education organization that led you to your first freelance gig.
Whether it was a teacher sharing a personal story, meeting an industry professional working at your dream company or learning about an organization that does work you're interested in — behind all of these memorable life events are the mentors, role models and meaningful causes that have influenced how we've made some important life decisions.
Opportunities to learn new skills, meet interesting people and conquer exciting challenges are all around us — Footsteps makes it easier to discover and keep track of along the way.
Problem —
Solving for a purpose -driven design solution


How might we provide students with opportunities to gain valuable workplace knowledge and experience?
WHY?
As the world evolves and changes, so do the jobs around us. Because the skills required for these jobs are constantly shifting, it's challenging to prepare for them. Students are especially prone to feeling underprepared when looking for jobs and could benefit from opportunities beyond the classroom.
WHO?
While interviewing students, job-seekers, teachers and industry professionals, I've learned that face-to-face conversations were of the most value to a positive experience when exploring various career paths.
Direct exposure and engagement in skill-related opportunities is an important part of the job seeking process. These key insights helped me determine what the essential features of the application should be.
WHAT?
From these insights, I wanted to conceptualize an event discovery tool for students looking for opportunities to build experience and foster meaningful connections. Students can search for events based off their interests, location and friends attending.

SOLUTION —
Event discovery tool
A mobile tool that allows students to discover events around them where they can gain valuable workplace knowledge and experience.
Research —
Secondary, primary and prototype testing summary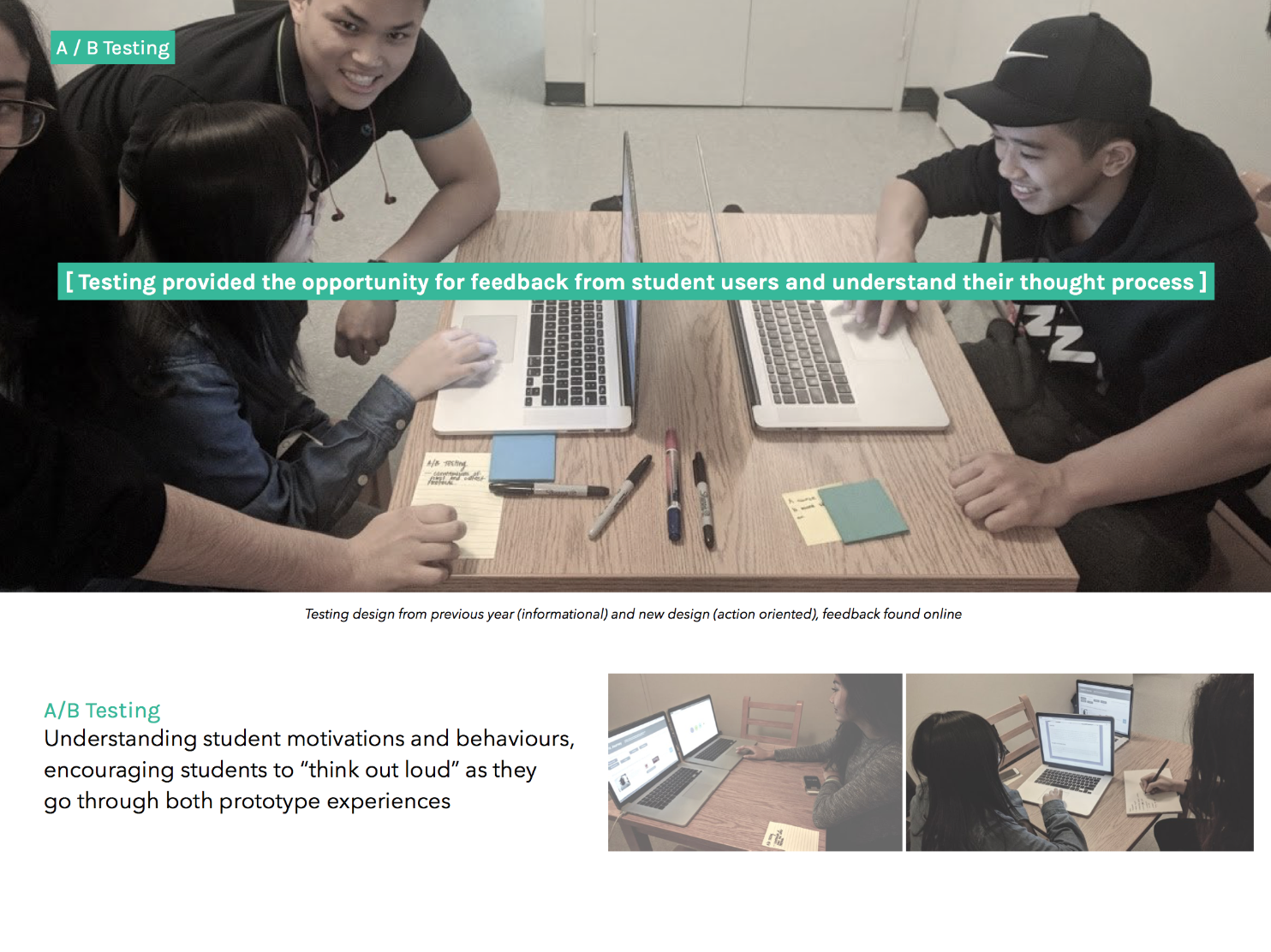 Based off the testing session, I came to the realization that gaining workplace knowledge and experience is a continuous learning process and that the proposed solution could benefit beyond students of early age.
As a secondary audience focus and basing off feedback received during testing on the value of in-person interactions, I began to pivot towards an events offering perspective of a design solution. I reached out to various Slack communities and put out a survey to additional students, education staff and industry professionals on networking events.
Journey Mapping + Persona creation
Mapping out pain points and goals expressed during the testing session helped gather context in understanding students needs. Based off feedback given, I was able to craft a main persona to reference throughout my design process to align with suitable design decisions made.
Insights —
Based off user testing and co-creation session with students
While interviewing students, job-seekers, teachers and industry professionals, I learned that face-to-face conversations were of the most value to a positive experience when exploring various career paths.
I also learned that direct exposure and engagement in skill-related opportunities is an important part of the job seeking process. These key insights helped me determine what the essential features of the application should be.
opportunity Area
Popular platforms such as Meetup, Eventbrite and Slack communities that have regular event postings are mainly targeted towards young adults to seasoned professionals, though high school students are not restricted from attending the events, they are generally not on these "adult-oriented" platforms and as welcomed.
Disconnect in discovery of event happenings:
User must already be active on the existing platforms

Facebook's suggestion algorithm curates events related to your recent related search activity but this in turn requires having a registered account.
general pain points
Limitation of known event posting platforms welcoming to high school students

Language of websites particular to mature crowds and existing industry professionals

Students may navigate through multiple platforms at a time in order to find events
Design Iterations —
A/B testing different app on-boarding flows
On-Boarding User flow
Variations of initial on-boarding flow were A/B tested with students to understand usage and validating purpose around searching for events as a student.
Feature Exploration
Additional features were thought of throughout the thesis study and process, extending beyond initial event search, considering the app usage in different environment contexts
Business Value —
Early stages of considering a business model and evaluating success
Understanding Stakeholders' Values and Needs
Utilizing Google Venture's Design Sprint process and product design frameworks, I was able to ideate through various ideas and came up with potential product goals to design within and consider the future growth of new feature implementation.
Considering questions like:
Where can these opportunities be found?
What are their expectations when attending these engagements?
What do they value most?
What motivates and enables them to actively look for these opportunities?
How might one get to the point of direct exposure to skill-related opportunities?
establishing Product Goals
Encouraging students to become more engaged within the community

Communicating the value in attendance and calling out specific skills you may gain from an event *

De-mystifying the fear of "networking" and approaching it confidently as an "experience building opportunity" *

Providing guidance in how to approach new people at an event

Foster a community willing to continue the conversation after the event and develop meaningful relationships
* - Prioritizing the features that ultimately could be accomplished within my thesis timeline based on the feedback received
Presentation —
Pitching concept at grad show in front of industry
Takeaways —
Lessons learned and thoughts going forward
Time Management
Timing was crucial for this thesis. From juggling additional courses to balance while completing project deliverables each week; it important for me to sketch out a schedule to ensure I stayed on during.
As the first three months of my semester were more exploratory with the research process, the last three months consisted of more hands-on work that required a realistic overview of things I needed to accomplish for beginning another phase.
From coordinating times to meet with research participants to ensuring I had enough time to create prototypes to test, everything was very sequential.
Design System + style guide
If I could go back in time, I would definitely make use of creating a design system within Sketch to be more efficient with keeping track of all the different iterations I was able to explore. A versioning tool such as Abstract would have been quite helpful versus the dozens of Sketch files created.
Accessibility
Accessibility is incredibly important when designing. Colours can be the most difficult to work with, and more time spent on considering different colour combinations with enough contrast would have made a significant difference in being inclusive to all users.
There are a vast number of tools available and general accessibility principles (tools for checking colour ratios, legibility, thumb space, etc.) to keep in mind while designing.
Steps forward
Though this was just a mobile app concept, it was a great overall learning experience to consider designing a product's end-to-end experience.
It gave me a good grasp of UX strategy; considering the value in a product, the users that would benefit and business need, research; being able to talk to students and educators about my concept and work together with them to test out different versions and consider the concept in context to the environment it would be used in and lastly, visual design; one of the biggest things I wanted to improve on throughout the semester, exploring different design styles and patterns for mobile UI gave me a greater appreciation for working with design systems and style guidelines.
Going forward, I've gained an incredibly great interest in product design and designing for experiences that impact beyond the screen.
I especially enjoy products that allow users to interact out in the real world more effectively, alongside a product that helps enhance their overall experience in some way.
Interaction Design, UX Research